Complete Regulatory Compliance
D.O.T. qualified drivers
I.C.C./D.O.T. Authority Common & Contract
State & Federal Permits
Insured to Protect Property: $500,000 Cargo/Physical Damage
$1,000,000 Public Liability
Human Resources
Uniformed drivers
Quality assurance trained personnel
24 Hour customer assistance
Safety program
On site dispatch personnel
Clean & courteous drivers
Customized quality control delivery programs
Vehicle Tracking
Computerized Dispatch Shipment Interface System
Dispatch within 72 hours of order confirmation
500 guaranteed delivered miles per day
Vehicle Condition Reports and Verified Delivery Receipts
Safety
We are very proud of our safety rating.
Click here to view our safety rating
Status Report
The Shipment Status Report can be sent to your office each afternoon via fax or e-mail. or obtained online 24/7. There is sample of this report below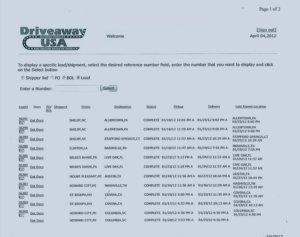 The report includes the date of your order, shipment number, vehicle description, origin, destination, mileage, tariff, designated driver and comments regarding the transaction. Our drivers are required to check in by noon each day, enabling us to provide you with an accurate status report as well as estimated time of arrival, changes in delivery, breakdowns, or delays when they happen.
We have found this to be a valuable service to our customers. The Shipment Status Report is to provided to save you time. If we can customize this report to suit your needs please contact our office at (800) 340-3793 from 9am to 5pm Monday through Friday.
1. Driveaway USA, Inc. ("Carrier") agrees to transport the vehicle described on the Shipment Contract and/or Bill of Lading (the "Vehicle") for Shipper. The Vehicle will be picked up and delivered by Carrier in accordance with the schedule agreed upon by Carrier and Shipper at the time the request for shipment is submitted by Shipper. Notwithstanding the foregoing, Carrier shall not be liable for any expense, cost, damage, liability or claim incurred by Shipper for any failure in performance, resulting from acts or events beyond the reasonable control of Carrier. For purposes of this Agreement, such acts shall include, but not be limited to, acts of God, civil or military authority, civil disturbance, war, strikes, fires, other catastrophes, or other " force majeure " events beyond Carrier's reasonable control: provided, however that Carrier shall make all reasonable efforts to continue to meet its obligations during the duration of the force majeure condition and: provided, further, Carrier shall notify Shipper promptly when the force majeure condition begins, the nature of the force majeure condition and when such condition is terminated.
2. Carrier is authorized to operate and transport Shipper's Vehicle from the point of origination to the point of delivery specified on the Bill of Lading or Shipment Contract.
3. The shipment of Shipper's Vehicle is subject to all terms and conditions of the Shipment Contract and/or Bill of Lading.
4. Carrier accepts responsibility for the vehicle after the pre-inspection is completed and signed by Shipper. Carrier's responsibility ends when the Vehicle is delivered and Shipper/Consignee signs the final inspection. At the time of pickup of the Vehicle, Shipper and Carrier will mutually inspect the Vehicle for pre-existing damage by completing a vehicle inspection report. Carrier and Shipper will both acknowledge the condition of the Vehicle by signing a copy of the Bill of Lading. After delivery, this process will be repeated with the Shipper/Consignee and Carrier. Any damage to the Vehicle must be noted in the proper place on the Bill of Lading and signed by the Carrier and the Shipper/Consignee at time of delivery. Execution of the Shipment Contract and/or Bill of Lading and inspection report without notation of any damage verifies Shipper/Consignee has received the Vehicle in Satisfactory condition, and that Carrier is relieved of any further responsibility.
5. Shipper agrees the Vehicle is insured and Shipper's insurance has primary responsibility for any loss sustained to the Vehicle. Notwithstanding the foregoing, Carrier maintains liability and cargo coverage insuring the Vehicle while in the control of Carrier. Carrier shall under no circumstance be liable for damage to any Vehicle caused by the following occurrences:
i) Damage not detected at the time the Vehicle is picked up for shipment due to weather or Vehicle being too dirty to inspect;
ii) Damage to car phones, video equipment, radio equipment, or any antennas and it is strongly recommended Shipper remove same prior to pick up;
iii) Damage cause by defective or insufficient brakes, parking brake or parking gear;
iv) Damage caused by leaking fluids or road debris;
v) Glass damage caused by road debris:
vi) Damage caused by vandalism during transport;
vii) Damage to undercarriage, exhaust system, suspension, wheel bearings, brakes, alignment, battery or charging system unless caused by the gross negligence of willful misconduct of Carrier;
viii) Mechanical function damage including, but not limited to, damage to a Vehicle's engine, transmission, rear end, motor mounts, drive trains, wiring systems, cooling systems, window motors, radios, stereo systems, power steering, air bag, brake cable, brake system, clutch cable, clutch, engine tuning, vehicle computerized system, alarm system, or any switches unless caused by the negligence of willful misconduct of Carrier.
6. Any personal items in a Vehicle are shipped strictly at Shipper's risk and Shipper shall indemnify and hold harmless Carrier for the loss or damage of any such item.
7. Shipper agrees should the Vehicle become inoperable during shipment, Carrier shall be reimbursed for all normal and reasonable expenses incurred to place the Vehicle in road worthy condition which for purposes hereof shall mean operable condition as determined by application of the rules and regulations promulgated from time to time by the United States Department of Transportations("DOT).
8. Carrier shall in no event be responsible for damage to a Vehicle more than ten (10) years old.
9. All damage claims must be submitted to Carrier within five (5) days following delivery of the Vehicle. All claims must be submitted in writing to Carrier at 1600 SW Market Street, Lee's Summit, Missouri 64081. All claims submitted to Carrier shall be administered pursuant to the provisions of Title 49 of the Code of Federal Regulations, as amended.
10. SHIPPER WAIVES, TO THE MAXIMUM EXTENT NOT PROHIBITED BY LAW, ANY RIGHT SHIPPER MAY HAVE TO CLAIM OR RECOVER FROM CARRIER IN ANY LEGAL ACTION OR PROCEEDING OR OTHERWISE ANY SPECIAL, EXEMPLARY, PUNITIVE OR CONSEQUENTIAL DAMAGES ARISING OUT OF THE SHIPMENT CONTRACT AND/OR BILL OF LADING OR THE TRANSPORT OF THE VEHICLE REFERENCED HEREIN.
11. ALL CLAIMS, SUBROGATION, LITIGATION OF OTHER LEGAL PROCEEDINGS REGARDING THE SHIPMENT CONTRACT AND/OR BILL OF LADING, OR THE SHIPMENT OF THE VEHICLE REFERENCED HEREIN SHALL BE GOVERNED BY AND CONSTRUED IN ACCORDANCE WITH THE LAWS OF THE STATE OF MISSOURI (WITHOUT REGARD TO ANY CONFLICT OF LAWS PRINCIPLES) AND THE APPLICABLE LAWS OF THE UNITED STATES OF AMERICA. SHIPPER HEREBY IRREVOCABLY SUBMITS TO THE NON-EXCLUSIVE JURISDICTION OF ANY MISSOURI STATE OR FEDERAL COURT OF COMPTENET JURISDICTION SITTING IN JACKSON COUNTY, MISSOURI IN CONNECTION WITH ANY PROCEEDING OUT OF OR RELATING TO THIS BILL OF LADING OR THE SHIPMENT OF THE VEHICLE REFERENCED HEREIN.